Introducing the Skills Bootcamp in essential data skills
Basic skills around collecting, sorting and analysing data have never been in greater demand - the average salary for a data role is £36,000 to £56,000. And whether you're just starting your career, or you're hoping to change careers, learning essential data skills can be the key to unlocking new and rewarding career opportunities.
Partnering with the Department for Education, Cambridge Spark are offering job seekers a 10-week, fully government-funded, Skills Bootcamp – part of the Government's Lifetime Skills Guarantee, helping everyone gain skills for life.
Skills Bootcamps are free, flexible courses of up to 16 weeks, giving people the opportunity to build up sector-specific skills and an offer of an interview with an employer upon completion. Learners may also be eligible for job placement in an entry-level data role upon successfully completing the bootcamp, such as data administrator or data analyst.
Application deadline:
Tuesday 5th December
You might be a good fit for this Skills Bootcamp if you...
Are based in England
Are 19 years or older
Have the right to live and work in the UK
Have been living in the UK for at least 3 years
Want to secure an entry-level data job after the Bootcamp

Have a passion for learning the basics of data analysis on Microsoft Excel

Wish to understand and identify the principles of analysis and the purpose of data-driven decisions

Wish to understand the basic concepts of how Python and SQL are used in data analysis
What you'll learn in this Skills Bootcamp
MS Excel for Data Analysis
Introduction to Coding with Python and SQL
Data Preparation, Quality & Validation
Data Sourcing & Integration
Charts & Visualisations
Dashboarding Tools
Storytelling & Presenting with Data
The Value of Data & Essential Digital Tools
How is this Skills Bootcamp delivered?
We deliver our full curriculum online to give you the flexibility to learn from anywhere and at your own pace. A mix of experiential learning, coaching, technical mentorship and peer support help you gain confidence in data skills and quickly apply them in practice.
You benefit from the following to aid you in your learning journey:
Expert lectures and instruction from world-class faculty
Immediate feedback on exercises through our EDUKATE.AI data learning platform
Engagement and support from peers through our online Knowledge Base forum
Safety and respectful learning environment notice: For the benefit of all participants and to ensure a safe and distraction-free learning environment, we kindly request that attendees participate in live sessions from a stationary location. Please refrain from attending sessions while walking, driving, or in any situation that might pose a safety risk or distract other learners. Your cooperation ensures a productive and respectful environment for all.
Programme schedule
The programme will last 10 weeks with 15-17 hours of study time per week. Your bootcamp includes 10 hours of live learning per week, and these sessions must be attended in order for your course to continue to be government funded.
The schedule (subject to minor changes) for each of the 10 weeks will follow the below structure beginning on Monday 11th of December at 9:30am.

Outside the schedule below, there will also be an induction session held on Thursday 7th of December at 3:00pm, which is designed to set you up for success on the programme: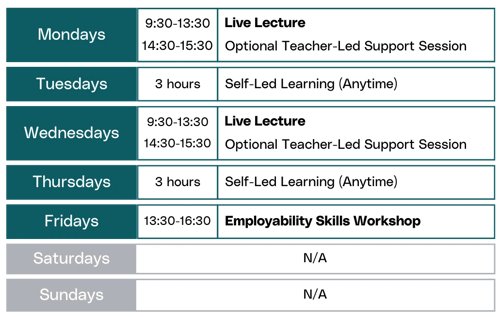 How to apply
The application process takes about 30-40 min and includes the following steps:
1. Complete the application form on the right (or below on mobile). You'll receive an email response with next steps within 5-10 min.
2. Complete the questionnaire form sent to you by email. If you meet the basic eligibility criteria for the programme, you'll receive an email with the questionnaire. This form includes 40-50 questions relating to personal information required for funding by the Department for Education, as well as information to help us assess your fit for this programme.
3. Confirm your place on the Bootcamp. If accepted on the programme, you'll receive an email containing a link to confirm your intent to join and complete the programme. "I did the bootcamp mainly to get some practical, hands-on experience... I wanted to find a way to actively work on problems and apply some of the understanding to real-world problems and data. I feel that was the best part about it. I could apply all the theory I've learned and also get hands-on, one-to-one support."
Christopher Brown, Skills Bootcamp Graduate